About Us
Stargell's Apiaries is a small business owned and operated by Matthew & Brandy Stargell out of Varina, Virginia.
We started beekeeping as a hobby many years ago and grew into a business in 2015. We have migrated up and down the east coast pollinating crops such as berries, Apples, and vine crops.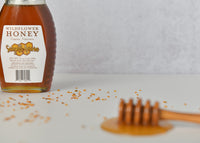 Did you know...?
 - A jar of honey may remain edible over 3000 years.
- Honey is the only food that will never expire
- It takes 12 bees their entire lifetime to make just a teaspoon of honey
- A Honey bee can fly up to 6 miles, and up to 15 miles per hour
Image slide

Tell your brand's story through images
Image slide
Tell your brand's story through images
Testimonials
The honey is absolutely delicious! I could just eat spoonfuls of it plain ;) But it's also great in my tea. Shipping took a little longer than expected so they threw in an extra free jar of honey! I will be ditching my grocery store honey and supporting this local business from now on :)

Jasmine Leigh
You two are awesome and I appreciate your help and input as well. Keep up the great work!

Royall D Farm
Delicious local Honey! Highly recommend!

Brandy McCauley